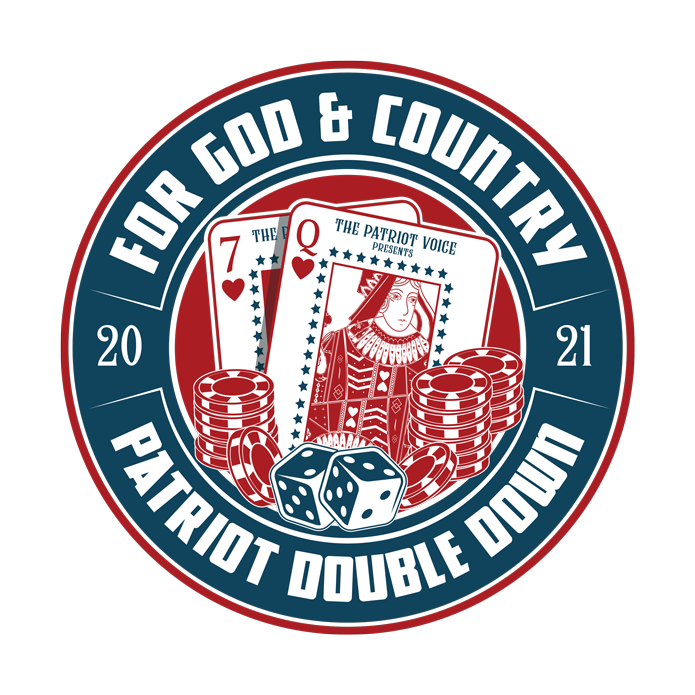 For God & Country Patriot Double Down 2021
22-25th of October ~ Las Vegas, NV
YOU asked for it, Patriots! YOU GOT IT! The Patriot Voice is excited to announce its follow up event to the Patriot Roundup… Join us in the entertainment capital of the world, Las Vegas, Nevada, for the For God & Country Patriot Double Down!!! They tried to shut us down but we have no plans to back down or shy away from this movement. We promise to DOUBLE DOWN on our dedication to God & Country, and patriotism! We will also be doubling down on the FUN! Patriots left our first event, the Patriot Roundup, with a renewed sense of hope, and a desire and motivation to get involved in their respective communities. They also left with lifelong friends in this Patriot family. We want make sure that we continue that excitement, momentum, and progress as we head into this next event! Join us for another weekend where you will hear from your favorite Patriots and Digital Soldiers, enjoy top-notch entertainment, and experience pure patriotism! We CAN'T WAIT to see you there!
TO REGISTER FOR THE EVENT, AND BOOK A HOTEL AT OUR DISCOUNTED RATE CLICK 
HERE
SHERIFF DAVID A. CLARKE JR.
After nearly four decades in law enforcement, Sheriff David Clarke has found innovative ways to serve the public that gives him the freedom to reach millions of Americans with his message, unfiltered by the confines of holding an elected office. In addition to his dedication and focus as the Sheriff of a large metropolitan county, Clarke developed a passion for political commentary.
He is fondly referred to as the "People's Sheriff" because he has the natural ability to explain complicated national controversies in a way that everyday people can understand. He is the keynote speaker at countless events across the country, where is audience praises his no-nonsense way of promoting conservative values. He truly enjoys mobilizing everyday Americans to become more politically active and civically engaged.

As President of his new private sector venture, DAC Enterprises, Clarke has ramped up his massive social media activism, including regular communication with his nearly one million followers on Twitter. In 2017, he became Spokesman and Senior Advisor to America First Action, dedicated to supporting the Trump-Pence Administration. Most recently, he is excited to join the Capital Research Center as Chair of the American Law and Culture program where he will tackle the destructive liberal ideology of identity politics.

Sheriff Clarke is a frequent guest commentator for world renowned national news programs on issues such as the reasonable use of force by law enforcement, preserving the Second Amendment, and the complexities of immigration enforcement at the local level. Just one of his interviews, where he sparred with Don Lemon of CNN, has nearly 3.4 million views on Youtube.

In his best-selling book "Cop Under Fire" Sheriff Clarke shares experiences of his childhood and how they shaped his future, as well as articulating his unwavering defense of our nation's police officers in a time when few had the courage to speak out.
David J. Harris Jr is an author, speaker, and leader in the conservative and pro-life movement. His passion comes through his speeches, gleaning from his life experiences. He has shared the stage with individuals such as Candace Owens, Dinesh D'Souza, General Flynn, Charlie Kirk and Kirk Cameron just to name a few. He has over 4 million followers across his social media channels and his book, "Why I Couldn't Stay Silent" breaks down some of the racial, political, and assumptive barriers that are currently front and center in our society.  He has been a frequent guest on Fox and Friends, News Max, The Victory Channel, OAN and several additional networks.
Born in Chicago, Illinois, Kirk grew up in northern Indiana, near the shores of Lake Michigan. After graduating high school and spending four years with the intelligence branch of the United States Air Force during the period 1963 – 1967, Kirk attended Indiana University, receiving a Master's Degree in the Russian language in 1974. Kirk then headed east to work for the National Security Agency (NSA), retiring in October of 2001.
During his career at NSA, he led a team of analysts that received the National Meritorious Unit Citation from the Director of the Central Intelligence Agency, and he was awarded the Meritorious Civilian Service Award, the NSA's second highest honor, for important work done on foreign strategic weapons systems.

Upon retiring from NSA, Kirk joined two colleagues in the formation of a small consulting business focused on helping U.S. government agencies with issues involving the analysis of "big data", a byproduct of the Information Age.

​In 2002, when it was clear that NSA was continuingdown the wrong path, Kirk, along with fellow NSA retirees Bill Binney and Ed Loomis, and former senior staffer on the House Permanent Select Subcommittee on Intelligence, Diane Roark, initiated a Dept. of Defense Inspector General complaint about mismanagement and the waste of hundreds of millions of dollars at the National Security Agency.

About the same time the Dept. of Defense IG complaint was made, Binney, Wiebe, Loomis, and Roark attempted to blow the whistle about NSA's illegal collection of information about innocent U.S. citizens. Despite talking to two different congressmen on the House Permanent Select Committee on Intelligence, and despite sending a letter about the matter to the Chief Justice of the Supreme Court, the U.S. Government did nothing and no one was held accountable.

Kirk, along with colleagues and former NSA executives Bill Binney, Ed Loomis, Thomas Drake and congressional senior intelligence staff member Diane Roark, continues to actively advocate through affidavits to lawsuits, the media, and through personal appearances for justice and legislation to rein in the NSA's violations of the U.S. Constitution. In this effort, Kirk has appeared in a variety of media fora including CBS's Sixty Minutes, PBS's Frontline, Fox News Channel's Sean Hannity, Megyn Kellyand Neil Cavuto shows, and on the front page of USA Today.
George Papadopoulos is an author and former member of the foreign policy advisory panel to Donald Trump's 2016 Presidential Campaign. He was the first former Trump aide arrested in the US Department of Justice's investigation into an alleged Kremlin plot to sway the 2016 US election outcome, now known as "Spygate." He was a London-based petroleum analyst before joining President Trump's campaign in March 2016. In March 2019, Papadopoulos released his bestselling book, "Deep State Target: How I Got Caught in the Crosshairs of the Plot to Bring Down President Trump," that is his firsthand account of how both American and allied intelligence services set out to sabotage Donald Trump's presidential campaign. 
Mr. Joseph J. Flynn is a serial Healthcare IT entrepreneur. He is also the youngest of Lt Gen ( R ) Michael T. Flynn 8 siblings. For the past 3 and a half years has been co-Trustee and Official Spokesperson for the Mike Flynn Legal Defense Fund which he co-founded with his sister Ms. Barbara Redgate Flynn.
For the past 20 years, Mr. Flynn has served as founder and CEO of two Southern California based successful Healthcare IT Services..
startups. One of those companies, Auxilio (AUXO) he brought from zero revenue to a NYSE listing in Jan of 2017.  The second Vereco, Inc., he successfully sold to a NY based private equity group in November of 2018.  Mr. Flynn is current CEO of Global Telehealth Services, a Cleveland, OH based telehealth startup which he joined in July of 2020.  He is also on the Board of two other technology related startups. Prior to his healthcare IT career, he spent 10 years in the International Exhibition Industry where he managed and acquired numerous large technology trade shows particularly in Latin America and Spain.  Mr. Flynn is a 1987 graduate of the Catholic University of America with a BA in International Relations.  He is fluent in Spanish and has working knowledge of Portuguese and French.  After 21 years in Orange County, CA, Mr. Flynn and his wife Valerie recently relocated to Sarasota County, FL.  The couple has two adult daughters.
THE WIZARD OF TWITTER
Out from behind the curtain.
Who is Jason Sullivan?
Serving as Chief Social Media Strategist to Roger J. Stone Jr. during the Trump 2016 Presidential campaign, Sullivan worked behind the scenes to help drive the narrative… by design. During…
the 2016 presidential election, Sullivan developed and deployed proprietary technology that exploited the world's #1 political social media platform Twitter, like nothing the campaign world had ever seen before. In the critical final months of the campaign, Sullivan played an instrumental role in helping to tip the scales in candidate Trump's favor in what arguably turned out to be the nation's biggest political upset in modern day history.
Sullivan's methods and timing were so effective, following the election, Sullivan quickly caught the attention of Robert S. Mueller and the Special Council investigation and on May 7, 2018 Sullivan was issued two subpoenas by Robert Mueller who took great interest in finding out more about what Sullivan's role was behind the scenes during the Trump 2016 election.
Sullivan endured hours of intense interrogations by Special Council's top prosecutor, Aaron S.J. Zelinsky
who was flanked by two (2) FBI Special Agents in a closed room setting. In spite of all the FBI's various and dubious intimidation tactics (which were even used on his family), Sullivan willingly testified in front of a federal grand jury and was ultimately cleared of any wrong doing. The FBI tried to intimidate Sullivan into testifying against Stone during his trial, but Sullivan refused to lie and stood by his own evidence, in his possession, that proved Stone never colluded with any Russians or Julian Assange, due to his knowledge and during his time as a social media consultant with Stone's super PAC.
In 1999, Juanita Broaddrick, in an NBC Dateline interview, accused President Bill Clinton of raping her in 1978 when he was the Arkansas Attorney General and running for Governor.  She never wanted to come forward but was outed as Jane Doe #5 in the Paula Jones vs Bill Clinton suit.   Soon thereafter, she was deposed in the Ken Starr Impeachment investigation of Bill Clinton.  
She has written a book, "You'd Better Get Some Ice On That", telling her story of survival from the assault at the hands of the future President to the veiled threats of Hillary Rodham Clinton.
Evan is one of the nation's leading political pundits. His 2007 lecture to the Heritage Foundation, which Andrew Breitbart called "One of the five most important conservative speeches ever given," remains the single most viewed lecture in Heritage Foundation's history while his article, "He Fights" is, by far and away, the single most read article in Townhall's history. Kurt Schlichter of Townhall calls even "A true legend of the movement."
Evan was a top advisor to the Ted Cruz for President campaign, has written…
four speeches for first candidate and then President Trump while his new book, The Woke Supremacy hit number one in its category on Amazon.com.
In regards to Evan's book:
"Having put the patient [socialism] to rest, there was nothing more for Evan to do. I HIGHLY recommend The Woke Supremacy" — Dinesh D'Souza, bestselling author and filmmaker.
"Outstanding. It's packed with information and insight. Every point is very clearly and convincingly argued. This is the kind of thing I would recommend to brain-dead liberals like I used to be, to help lead them out of their own ignorance." — Mark Tapson, editor Frontpage magazine.
"You owe it to yourself to read this vital new book by a true legend in the movement" — Kurt Schlichter, Townhall.
Representative Mark Finchem was born in Detroit, Michigan, and grew up in West Michigan. He served 21-years with the Kalamazoo Department of Public Safety, first as a firefighter/paramedic, then as a law enforcement officer.
Living outside of Kalamazoo, Mark worked as a farmer and rancher in a small rural community. When he retired, Mark moved to Tucson, Arizona, where he worked in leadership roles in both small business and a multi-million…
dollar market cap software company. In the private sector he earned a Six Sigma Certification in Process Excellence.
Mark graduated summa cum laude from Grand Canyon University with a BA in State and Local Public Policy, and is currently finishing a Master's degree in law and economics at the University of Arizona's James E. Rogers School of Law. Mark is the lead Legislator for the Arizona Ballot Integrity Project, which promises to revolutionize ballot security and election integrity all cross the United States.
Originally elected to serve in the 2015 Legislature, Mark is now in his 4th and final term under Arizona term limits law, and he is the leading candidate for Secretary of State.
Senator Sonny Borrelli is retired USMC, GySgt, and served in the Marines from 1977 to 1999. He moved to Arizona in 2000. Senator Borrelli is a former small business owner and served on the Lake Havasu City council from 2010-2012.
In 2012, Senator Borrelli was elected to the Arizona House of Representatives, where he served two terms and was the Chairman of the House Military Affairs & Public Safety Committee and Vice-Chair of the House Judiciary Committee.
Senator Borrelli was elected to the Arizona State Senate in 2016…
where he served as Vice Chair of the Senate Government Committee and later as Chairman of the Government Committee. He was also a member of the Appropriations Committee, Commerce & Public Safety Committee as well as the Senate Finance Committee. In December 2017, Senator Borrelli was assigned to the Joint Legislative Income Tax Credit Review Committee. In 2018, Senator Borrelli was appointed to serve as a member of the Legislative Council Committee.
In 2020, Senator Borrelli was elected to his 3rd term at the Senate and was again elected by his colleagues as Senate Majority Whip, his 2nd term for this position, where among his duties he presides over Majority Caucus. He is a member on each of the Senate Committees on Government, Commerce, Judiciary and a member of the Senate Rules Committee. 
In 2020, Senator Borrelli was inducted into the Military Rodeo Hall of Fame for his outstanding achievements in Bronc riding and Leadership as the Commissioner of the Military Rodeo Cowboys Association from 1988 – 1999.
Leo Biasiucci was born and raised in Lake Havasu City, Arizona and has called Arizona home for over 35 years. After graduating from the University of Arizona in 2005, he went on to work for companies such as General Electric and Geico. He became an Arizona small business owner in 2013.
In 2017, Leo decided to run for the Arizona House of Representatives. He was elected…
in 2018 and is currently serving as a Legislator for District 5. He was awarded the Newcomer of the Year Award in 2019 and had the first bill signed into law by any freshman lawmaker. In 2021, Leo was re-elected to the Arizona House of Representatives for his second term and was also elected as the House Majority Whip for the Republican Caucus.
Leo had two monumental bills signed into law this year. The first is HB2111, also known as the 2ndAmendment Firearm Freedom Act. This bill makes Arizona a 2nd Amendment Sanctuary State. His second bill, HB2889, adds mandatory sentencing and life in prison to any individual involved in child sex crimes and sex trafficking.
In November of 2020, he proudly sat alongside Senator Sonny Borrelli and Representative Mark Finchem at the Arizona election integrity hearing. At the end of the 12 hour hearing, he realized 3 things;
1) Trump Won
2) Our Elections Are Compromised
And
3) Epstein Didn't Kill Himself
Rachel is the host of The Rachel Hamm Show, is a best-selling author, & speaker. Rachel Hamm has been married to her husband Marshall for 25 years & they have four sons. As a children's ministries director at a large evangelical church she oversaw a volunteer staff of over a hundred people every week. She went on to work for Live Nation and AEG where she hosts many of the most successful artists and musicians of the day.
When the Covid lockdowns hit all shows and concerts evaporated. As they say necessity is indeed the mother of invention. The lockdowns led Rachel to start The Rachel Hamm Show which highlights political, cultural, and spiritual issues facing us today.

As Rachel saw that constitutional rights were taken away throughout 2020 she began very concerned and very vocal about this travesty. Then, when the 2020 election took place and she saw fraudulent elections being certified she knew she had to do something. She is not running for Secretary of State for the state of California to ensure that every legal citizen has their vote count.
Jim Marchant has been a leader and innovator in the computer software, Internet, and telecommunication industries beginning in 1984. He has founded and served as CEO and President of numerous technology companies.
In 1984 Jim founded and operated a computer software company and sold computers and software throughout the country.
In 1994 realizing the potential magnitude of the Internet, Read Less
Jim founded and operated one of the first Internet service provider companies in the country. Being a pioneer in the Internet industry, Jim fought efforts by the Government to overly regulate the new revolutionary technology. And for that reason, Jim founded the
Federation of Internet Service Providers of America (FISPA) and served as President for six years.
Under Jim's tenure, FISPA formulated laws and lobbied the US Congress, FCC and State legislatures to enact most of the cyber laws that are in effect today.
Jim successfully lobbied against Internet taxation in Florida during the mid to late 1990s, receiving national press attention from both print and TV news media. This effort set a national precedent for no taxation on Internet access. As a result, most state legislators and the US Congress passed bills that would exempt consumers from paying sales tax on Internet access as well as no sales tax on online purchases through the Internet.
In addition, Jim successfully lobbied state utility commissions and the FCC to prevent the Internet from being classified as a utility keeping the Internet open and free from government regulatory control.
In 1999 Jim was appointed by the Florida Legislature and Florida Governor Jeb Bush to serve on the Florida Information Service Technology Development Task Force. This task force was established to automate Government agencies using the Internet to facilitate online interactions with its citizens.
In 1998 Jim raised approximately $17 million dollars to start one of the first VOIP telephone companies in the country and served as the CEO and President.
After retiring in 2003 Jim moved to Nevada in 2005 and continued to be active in politics.
In 2016 Jim ran for and won the Nevada State Assembly seat representing District 37 in Las Vegas. He served on the Commerce and Labor, Energy, Taxation and Government Affairs Committees.
After 2017 Nevada legislative session Jim was ranked as one of the top conservative legislators in the Nevada legislature by numerous conservative organizations.
In 2020 Jim ran for Congress for Nevada's Congressional District 4 and was a victim of election fraud. Jim was endorsed by President Donald J. Trump, Congressman Jim Jordan, Congressman Andy Biggs, Congressman Paul Gosar, and the House Freedom Caucus.
In February of 2021, Jim announced his intentions to run for Secretary of State in Nevada. His number one priority will be to overhaul the fraudulent election system in Nevada.
Sean is a man with a burning heart for God. An Evangelist under the leadership of Pastor Larry Huch of New Beginnings Church in Dallas, Texas.
His passion is to see revival and his desire is to help equip believers to be more effective in reaching the world around them with the love and power of God, and to see the lost come to Christ.
An ordained minister for 25 years…
beginning first as a Pastor of two churches, Sean uniquely understands the need that Senior Pastors and leaders have, to equip their people to reach their communities for Christ.
Sean operates in signs and wonders following the ministry of the good news.  His love for God and His people and his passion for Jesus are evident in his life and meetings.
Sean served in the US Armed Forces and is a veteran of Iraq and Afghanistan. He has preached the Good News in countries including Africa, Afghanistan, Australia, Canada, Egypt and Ukraine as well as throughout the US. He has also ministered on Praise the Lord Northwest in Portland, Oregon.
There are great testimonies of salvation, healing and deliverance wherever he ministers.
Ministers comments:
"Sean is a phenomenal preacher, a proven soul winner and gifted in healing and deliverance"                                                                  Pastor Larry Huch
DFW New Beginnings
"His coming will leave a deposit of the Presence of God in your assembly."
Gloria Neal, State Clerk
AOG Queensland, Australia
"Sean is an excellent Evangelist with a general anointing, especially in the area of healing".                                                                     Wayne Alcorn
National President of Australian CC
"Sean is a gifted and articulate preacher.  An Evangelist who wins souls to Christ with signs following."                                                Pastor John Wedrat
Pastor of Generations Church
"Sean's sensitivity to the Holy Spirit and his preaching of the Word of Faith resulted in salvations and healings during our meetings."
Pastor Roy Taylor
Andre Popa was born in Romania under Communism. His family made the journey to America when he was 9 years old with nothing but each other. No English, no money, no choice but to work hard as a family to survive. His parents were both Electricians as their "assigned trade" back in Communist Romania, so taking that skill set, they did whatever jobs they could find, and eventually started their own company. After all, that was the "American Dream"!
Andre worked alongside his family as an Electrician throughout his childhood. As a young adult, his entrepreneurial spirit was taking flight and he ventured out beyond Electrical into Design & Construction. He quickly discovered he was a natural people person, and his connecting skills, along with his extraordinary vision and unique designs landed him multiple high-profile projects, including designing and building homes for several celebrities. He had definitely found his niche in creating, building and connecting! In 2000, he met Tami Popa, a kindred spirit. The only child of a single parent, she was no stranger to tough times and hard work either. Andre and Tami quickly put their entrepreneurial heads and hearts together, and through the years have built several successful businesses, on top of raising two beautiful girls, now teenagers. They have never been satisfied with the status quo, and constantly strive to achieve new levels of success, or as they like to say … Badassery! It's this mindset that sets them apart from the rest, and keeps them hustling. In 2017, they transitioned out of their traditional businesses, to pursue their dreams and passion projects. One of which was to take their years of experience as entrepreneurs, and passion for teaching and helping others, to the next level. This was the launch of Badassery Factory, a place where anyone from anywhere could go through the Factory and come out a BADASS … In life, relationships and business! Today, Andre and Tami run their dream businesses from their cell phones, inspiring and empowering others to unleash their inner Badass, and travel the world with their girls! That is their "American Dream"!
"Doug, your show is going to be THE voice of the conservative movement in America and the world."  – Lt. General Michael Flynn
"My interview with the great Doug Billings on his latest show…"  -Sidney Powell
The Right Side with Doug Billings™ is one of the most promising new conservative political and social commentary programs in America and around the world. Recent ratings put his show at #7 in the United States and in the top 10 of news commentary shows in over a dozen countries.
With his Rush-Limbaugh-like personality, powerful voice, high-level political sources of information and his unique ability to see through fake news to arrive at the truth, Doug Billings has brought The Right Side to relevance in America. He continually points out and illustrates the intellectual immaturity of liberals.
Whether Doug is talking with you one-on-one or interviewing a guest, The Right Side with Doug Billings™ gives you facts, accurate predictions, and, along the way, it helps you to find wonder, joy, and meaning in this life.
It's no wonder that this program is being noticed and labeled as one of the most influential up-and-coming conservative political and social commentary shows in America!
Gene Ho is an American Photographer, Best-Selling Author and a TV Show Host. His client list reads like a "who's who" in American Politics, Sports and Hollywood Pop Culture. He is best known as the official personal photographer to Donald J. Trump during the historic 2016 Presidential Election. Those photos and stories are documented in Gene Ho's #1 Amazon Political Best Seller "TRUMPography." Currently – Gene Ho is the personal photographer to Diamond & Silk and he is the co-host of "Right On Focus" as seen on AppleTv and ROKU.
More about Gene Ho here: www.Trump-ography.com and more on his show Right On Focus here: www.RightOnFocus.com
Christian Hartsock is an independent filmmaker and the senior investigative journalist at Project Veritas He broke some of Project Veritas' biggest stories, having gone undercover to expose the Clinton campaign's secret operation to incite violence at Trump rallies CNN contributor Van Jones' real thoughts on the Russiagate "nothingburger" hoax, and high-level Google executives' efforts to interfere in the 2020 election.
Hartsock worked for Andrew Breitbart up until his death, having done video reporting in treacherous zones from the Ferguson riots to Saddam Hussein's palaces, co-starred in Steve Bannon's Occupy Unmasked, has written, directed and produced creative video content, including directing a music video for Guns N Roses' Chinese Democracy tour and wrote and directed Till Life Do Us Part, a short film syndicated globally on Pay-TV.

He continues to develop creative feature films with his producer, leads undercover operations for Project Veritas, appears on radio and TV talk shows. He grew up in Oakland, California, earned his B.A. in Film and Video Production from Brooks Institute in Santa Barbara, and resides in Los Angeles.
Seth Keshel, MBA, is a former Army Captain of Military Intelligence and Afghanistan veteran. He is known for working for General Michael Flynn as an analyst and key affiant in numerous 2020 election challenges.  Seth is active in conservative grassroots efforts in Texas and lives with his family near Fort Worth.
"The pseudonym of Patel Patriot was chosen as homage to Kash Patel for the role he played throughout Donald Trump's Presidency. Patel Patriot is an "average American" from the upper Midwest who became "obsessed" with the idea that there was no way Trump would just walk away from the country after having his second term stolen from him. After first hearing of the theory of Devolution on a social media platform, Patel Patriot set out to research the theory for himself and laid out his findings in The Devolution Series which has recently grown in popularity. The series currently has 8 parts with more on the way.
Although Patel Patriot has done numerous podcast interviews, speaking at the Patriot Double Down will be his first public speaking appearance on the topic of Devolution."
Couy Griffin is a leader who started from very humble beginnings and has established himself as a major influencer in conservative politics today. Growing up in a logging and sawmilling family, Couy learned at a young age the difficulties of dealing with the Federal Government and the politically driven policies that affect the western way of life. With a heart driven to stand up for what is good and against that which is evil, Couy found himself called into the ministry. Pastoring a cowboy church in New Mexico, Couy had a voice but he did not have a vote. That hunger to be more involved led Couy into the world of politics where he is currently seated as an Otero County Commissioner in Alamogordo, New Mexico. Since beginning his tenure…
as a commissioner in 2018, Couy founded and led the group Cowboys for Trump. Traveling across the U.S. this group advocated for the importance of a secure border, protecting the 2nd Amendment and ensuring that life is protected. All of which is guaranteed by standing behind and supporting President Donald J Trump.
Bevelyn Beatty was born in Staten Island, New York, and soon after moved to North Carolina where she spent the majority of her childhood. In her formative years as a child, her parents separated, and she was raised in an environment of instability, turmoil, and both sexual and physical abuse. A product of a broken culture, she acted out with rebellious behavior from a young age. She developed a negative image of men which was more deeply confirmed through repeated experiences. Men were after one thing, and one thing only, just like her father had told her as a teenager. Having had her first abortion at 15 and later dropping out of high school, she continued on a self-destructive path centered around dating, drugs, and drinking. She would go on to have two more abortions during that time.
Living a carefree lifestyle and needing a large sum of money to catch up on past due rent payments, she was caught and arrested for money laundering from her employer. While in jail awaiting bail for 7 days, she met a woman who had the God-given ability to see her internal struggle with depression that she had kept secret for quite some time. The woman told her that if she did not change her life, the next step for her would be the grave. Bevelyn knew in her heart this was true and upon her release moved forward with the determination to choose a new path.
Not long after, working for a non-profit women's organization, she was raising awareness and fundraising from people on the street in front of the Trump Towers in New York City. She met a woman named Edmee who patiently listened to her explanation of all the things they were doing to help young girls. After completing her pitch, Edmee responded,
"I could give you money, but if these girls don't know Jesus, nothing will change." Bevelyn knew deep down that this was true, and with curiosity sparked by their conversation, proceeded to get to know Edmee more in the coming weeks. Shortly after Edmee began discipling Bevelyn and they began working alongside one another to pursue the ministry God had
called them to; feeding the hungry, healing the sick, and sharing the Gospel of Jesus Christ. In short, sharing the truth that until Jesus Matters, nothing else matters.
www.AtWellMinistries.org
Edmee Chavannes was born in Paris to parents who had previously immigrated to France from Haiti. In her early years, her family attended church, but after her parents divorced when she was a child, her mother left the church and gave up on God. Influenced by her own negative life experiences and the speeches of Malcolm X, she developed a hatred of white people and for her father from which she had become estranged. Having visited the United States several times throughout the 1990s, she fell in love with the sense of freedom in America and was impressed by the size and scale of every aspect of life in contrast to what was familiar in Europe. As an adult, after experiencing the loss of a dear friend, in 2002 she decided to immigrate to the US for a new start.
Despite this new beginning in America, she continued to struggle with depression, rejection, and pessimism – but that would soon change. Encountering Christians
who were truly relying on God in their daily lives, something she had not observed with Christians she had known back home, she saw a peace in them that she
wanted for herself. In 2003 she received Christ and was born again, experiencing a
radical shift that lifted her out of depression, removed the lens of racism she had
seen the world through for so long, and empowered her to forgive her father. One evening, while attending a Broadway show with friends, a particular scene stirred up an overwhelming sense of awareness of the struggle between the prevailing culture and the Kingdom of God. She heard from the Lord that he had called her to engage in the battle to regain this territory, and she began to pursue it, leaving her secular career for full-time ministry.
A few years later, on her way to the grocery store, she encountered a woman canvassing for a non-profit organization in front of Trump Towers. She listened to her explain all the things they were doing to help young women. When the woman finished her pitch, Edmee acknowledged that her effort was well-intentioned, but responded that if people did not give their hearts to the Lord, nothing would change. Much to her surprise, the woman did not attempt to debate her but readily agreed. This woman's name was Bevelyn Beatty, and she and Edmee would
go on to become great friends and pursue ministry together that continues to this day.
www.AtWellMinistries.org
Vicki is a proud 3rd generation Texan who grew up in the Dallas/Fort Worth area.  Although she never had aspirations of being in the movie industry herself, she became familiar with it at an early age due to her mom being a working TV/Film actress.  Joining her mom on various sets such as Born on The Fourth of July and the TV series Dallas, she learned to appreciate all the work and effort that is put into bringing a production to life.  After receiving an undergraduate education in Biology with a double minor in Chemistry and English from…
Texas Tech University instead of going into medical school, Vicki joined the ranks of corporate America.  It was during that time that she was approached by an acting agent once again to consider representation.  She prayerfully came to the conclusion that this was the path God had chosen for her, so began her journey in the entertainment industry.  
With more than 20 years experience in the entertainment industry as a SAGe actress, Vick has significant experience in front of the camera.  Among the numerous projects she has worked on are: Invincible, Deadly Seduction, Murder Made Me Famous: The BTK KIller, and more.  However, as a committed follower of Christ, Vicki knows and has seen first hand just how broken and depraved this industry is, which is why she followed the call of God on her life that began 2 years ago to create a film production company that is in the business of bringing studio-quality entertainment with traditional values back to the big screen, with a specific focus on the Millennial and Gen Z audiences.  Vicki knows that Hollywood has targeted the younger generations very specifically and strategically with their products and messaging, and unless someone stands up and takes them on, we will  lose our younger generations for good.
BEN CHASTEEN "EDGE OF WONDER"
Ben Chasteen is the president of the streaming network RISE TV. He began his creative career by studying music, philosophy, and mastering the art of tea. Ben went on to research varied specialities, including massage therapy, histories of traditional cultures, and photography. He worked as the chief photographer for The Epoch Times, covering events across the U.S., as well as other countries. Ben gained an understanding of how society was being manipulated by a Communist agenda…
so he decided to help people see how they could set themselves free by using their own awareness, virtue, and inner awakening. Ben co-created the show Edge of Wonder in 2018, serving as a host, producer, and researcher. He helped reach hundreds of thousands of subscribers and amassed 50 million views on YouTube alone before it was censored and deleted. Drawing upon his expertise in research and creative vision that he developed over his career, Ben is devoted to continuing to help people discern the truth.
Seth Holehouse is the creator and host of Man in America. After witnessing the theft of our Republic on November 3, Seth produced a video called "The Plot to Steal America" to expose the election fraud, the dark agenda of big tech and mainstream media, and the hidden hand of the Chinese Communist Party. The video quickly went viral, culminating in President Trump sharing it across his social media profiles—garnering hundreds of millions of views worldwide—and thrusting Man in America into the spotlight. Seth broadcasts live twice a week, covering politics and current events in a calm, rational, and inspiring manner. His mission is to shine a light on the dark forces in this world, and to summon the spirit of 1776 among fellow patriots.
Brad Getz is a Social Commentator known for his Documentaries. In the Spring of 2018 He began posting his work on the channel "Where We Go 1 We Go All" (currently Logical Faction)where he eventually amassed 165 thousand subscribers and over 10 million views. Brad is also a life long musician and has built skyscrapers in Manhatten for 17 years as a Surveyor/Blueprint Engineer. He is most known for the videos  "The 2nd American Revolution" and "The Democratic Party: Walk Away"
Suppressed, deleted, banned for life and generally shunned by mainstream platforms, Zak Paine of RedPill78 was a fast growing News and information channel on Youtube and Twitter. After two years of steady growth, on Oct. 15, 2020, Youtube deleted and banned RedPill permanently after nearly 800 videos, two years of daily news reports and interviews with some of the greatest minds of today. Twitter followed shortly thereafter. RedPill quickly rose to the attention of not only the greater truth community but also the dying legacy media for his attention to detail & consistent high quality production. 2020 has seen the purge from all mainstream social media platforms, the most effective conservative voices and supporters of the President.
Labeled a "professional shit-stirrer" by Rolling Stone, Jordan Sather is a renowned citizen journalist and truth-based content creator. Because Jordan has attracted a significant social media following for his reporting of the most suppressed information of our time, he's also attracted significant blowback by Big Tech and Fake News Media. He had over 300,000 subscribers and 40 million views on his YouTube channel "Destroying the Illusion" before having his account suspended in October of 2020, and 15 other digital platforms have banned him as well. Jordan is a producer of the chart topping 2018 documentary "Above Majestic: The Implications of a Secret Space Program." Find him at www.jordansather.com
After discovering many uncomfortable truths in 2018 that led her from stay at home mom to independent researcher, Kate Buckley has devoted her life to helping others not only see through deception that we are faced with every day but to also find hope. The Great Awakening is not only real but it is happening right now and Kate has made it her mission to help others find their place in this historical movement. Banned from Twitter at a quarter of a million followers, Kate (somehow) still maintains her YouTube channel "The Kate Awakening" where she uses her sense of humor and raw honesty to traverse the fake news and help others navigate their own awakening.
Bernie is the founder of Truth and Art TV, a Christian Conservative, Patriot News and digital soldier and pro MAGA live and recorded podcast platform. He has a background in medicine (MD), psychology (BA), I.T, and media production.
In 2016 he wrote a book titled 'The Art of Overcoming the New World Order', has also written over one thousand articles and has made many presentations related to exposing truth and corruption.
Since 2018 Truth and Art TV has been banned by PayPal, YouTube (113k subscribers), Twitter, Patreon and Teespring. And recently…
Truth and Art TV was the victim of a Media Matters hit piece costing the banning of all his backup YouTube channels.
Bernie is also a Marine Corp Veteran sworn to defend the Constitution and he is an accomplished musician with 4 music albums recorded. See Truthandarttv.com
After many years of counseling, many years of grappling with and overcoming the legacies of more than seven years of sexual abuse from age 9 to 16 at the hands of an Athletic Coach and Juvenile Judge, Alan listened to a question asked of a survivor on a 2010 television show: "Did you get your power back yet?" For Alan, "that was the light bulb moment." That was the moment he realized that a significant part of his recovery still lay ahead of him.
Like many survivors of youth molestation, Alan had spent years struggling with anxiety, struggling with depression, struggling with addiction. He had also, simultaneously, nurtured a career as a professional image consultant and Custom Clothier for Men, providing high-end consultation to individual clients, among them a former USA President. Like many survivors, his internal struggles and his external successes lived side by side, a duality that few people understood.
So the exchange between the TV host and the survivor was a lightning bolt that fused these dualities. It launched Alan on an odyssey of social and political activism. Using social media and forging coalitions, Alan went public and worked tirelessly for changes in Georgia's statute of limitations laws. It was an odyssey that re-connected Alan with his power, but it was also an odyssey that had its costs. Not everyone in his social network was supportive. There was stiff Lobbyist opposition to the proposed changes to Georgia's laws. Alan found himself under attack by a Deep State containment operation where he was subjected to psychological torture by an organized team of agents dressed as Police officers and Paramedics who kidnapped him and took him to a staged Emergency Room while pretending  that they were going to harvest his organs while he was awake & alive. This was an attempt to induce fear based trauma in hopes of causing a breakdown leading to a psychiatric hospital admission to discredit his testimony and reputation.  
But like so many of life's darkest moments, Alan's produced light. He was covertly rescued in 2018 by a White Hat Special Forces operation where an agent from the State Department inspired his trust to follow the Q drops in the #wwg1wga movement validating his role as a Digital Soldier decoder and content provider in the Great Awakening. Alan shares his personal experiences validating Q Military Stringers are an Authentic White Hat Operation. He continues to wake-up the public by recording his research & decodes deconstructing our truthful history while  sharing his personal experiences validating the Pedophilia Blackmail Bribery System is real. He writes in his Blog articles his opinion as to what is taking place behind the scenes in the Great Awakening. 
BIO & Blog Posts with over One Million Views since 2018.  www.gf4justice.com/about
Jason always knew that "the system" was controlled by very evil people so he decided at an early age that he wasn't going to participate.
He became a meth addict for 23 yrs, went to prison three times and had a hole the size of Texas in his heart. He felt like he just never "fit" here and no matter what drug he took, he was always uncomfortable. He realizes now that it was ALL training for such a time as this.
Jason got clean five years ago and started working on filling that hole with Spiritual Principles and God. Three years after getting clean, Jason heard of a Military Intelligence Operation that was in the process of eradicating evil. Now THIS was something that he could get down with. He started digging and it was close to the time of the Paradise, CA fire. All he knew was that he had to get to those people. He knew things weren't right and he knew that he did not trust media, so he went straight to the source.
Jason found out about a gentleman named Stephen, who pulled the senior citizens out of the famous trailer park that burned down (but ironically was still surrounded by trees). All the data was showing that they were murdered so Jason had to know. Jason got a hold of Stephen and knew that he needed to be there. Jason's community put together a huge donation drive that monetarily made it possible for Jason and his family to fill up a rented U-Haul and drive 10 hours to find out what really happened. Jason's YouTube channel was actually started to cover this and it's the first video on the channel.
Jason remembers taking duct tape and writing in marker #WWG1WGA and taping to the back of his yellow construction vest and crying with survivors, telling them that he would not rest until these things were no longer happening and until the head of the snake was resting at his feet. He remembers that day like it was yesterday. It was the day that he decided that he would fight for ALL the People. All the people, all the Children, not just those under his roof. 
Jason also had questions about pizzagate so he went there, live streamed it, as well as infiltrated the manager to becoming facebook friends so he could find out myself how true all of it was. There were, and still are, hundreds, if not thousands, of rabbit holes to go down because of this. A treasure trove, it is.
Jason believes that we all have very vital roles to play in this Great Awakening and that when we operate collectively, amazing things can be  accomplished. Jason is currently taking this opportunity to travel around, getting his boots on the ground, and helping individuals become active in their respective communities, while participating in building something beautiful and back to how we thrive as a community. Jason is willing to fulfill the call! He wishes to thank each and every person for sharing this journey with him. He loves you all! 
And finally, as Jason says, "Remember: Your energy is the ONLY thing that YOU OWN. WHAT WILL YOU DO WITH YOURS TODAY?"
Darlene Swaffar is an accomplished Speaker and small business owner of a Medicare Insurance Brokerage firm in South Florida.  She is the Chairwoman for the Republican National Hispanic Assembly of Broward County, sits on the Leadership Council for the National Small Business Association, is a Board Member of Smartflordia.org,  and is currently a Candidate for US Congress representing South Florida.  Originally from Brooklyn, New York, she has the backbone and strength to fight the DC swamp.
The Grammy Award Winner, Mark Winston Kirk.
DJ WHITE HAT (DJ SNO WHITE)
*#1 Female DJ in Texas, Sno White*